PLEASE JOIN US FOR AN IN-PERSON PRESENTATION BY THE RICK HANSEN FOUNDATION
Incorporating Better Accessibility in the Building Industry
November 22, 2022 | By Scott Ruffett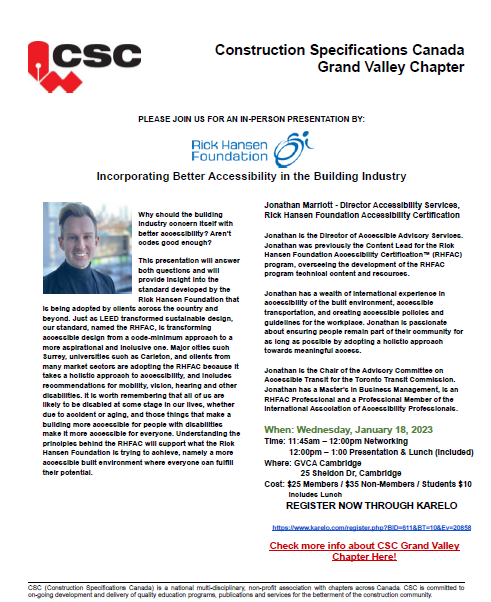 Why should the building industry concern itself with better accessibility? Aren't codes good enough?
This presentation will answer both questions and will provide insight into the standard developed by the Rick Hansen Foundation that is being adopted by clients across the country and beyond. Just as LEED transformed sustainable design, our standard, named the RHFAC, is transforming accessible design from a code-minimum approach to a more aspirational and inclusive one. Major cities such Surrey, universities such as Carleton, and clients from many market sectors are adopting the RHFAC because it takes a holistic approach to accessibility, and includes recommendations for mobility, vision, hearing and other disabilities. It is worth remembering that all of us are likely to be disabled at some stage in our lives, whether due to accident or aging, and those things that make a building more accessible for people with disabilities make it more accessible for everyone. Understanding the principles behind the RHFAC will support what the Rick Hansen Foundation is trying to achieve, namely a more accessible built environment where everyone can fulfill their potential.
Jonathan Marriott - Director Accessibility Services, Rick Hansen Foundation Accessibility Certification
Jonathan is the Director of Accessible Advisory Services. Jonathan was previously the Content Lead for the Rick Hansen Foundation Accessibility Certification™ (RHFAC) program, overseeing the development of the RHFAC program technical content and resources.
Jonathan has a wealth of international experience in accessibility of the built environment, accessible transportation, and creating accessible policies and guidelines for the workplace. Jonathan is passionate about ensuring people remain part of their community for as long as possible by adopting a holistic approach towards meaningful access.
Jonathan is the Chair of the Advisory Committee on Accessible Transit for the Toronto Transit Commission. Jonathan has a Master's in Business Management, is an RHFAC Professional and a Professional Member of the International Association of Accessibility Professionals.
When: Wednesday, January 18, 2023
Time: 11:45am – 12:00pm Networking
12:00pm – 1:00 Presentation & Lunch (included)
Cost: $25 Members / $35 Non-Members / Students $10
REGISTER NOW THROUGH KARELO